Hemp Oil Recipes for a Healthier You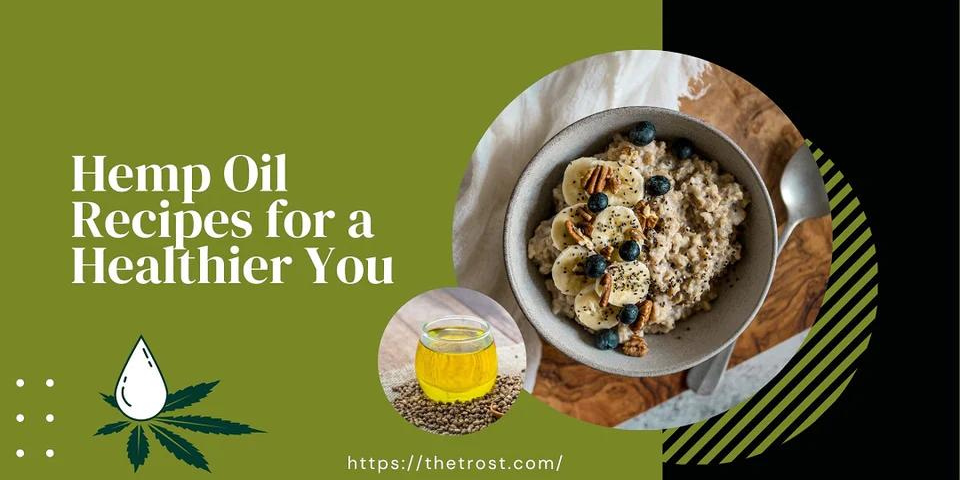 Hemp oil is derived from the seeds of the hemp plant and is a rich source of healthy fats, vitamins and minerals. Hemp seed oil does not contain significant amounts of cannabinoids such as THC or CBD, unlike CBD oil, which is derived from the flowers and leaves of the cannabis plant. Instead it is mainly used for its nutritional and health benefits. 
Hemp Oil and Health
Hemp seed oil is known for its many health benefits. Here are some ways it can improve your overall well-being:
Rich in Healthy Fats: Hemp seed oil contains a lot of polyunsaturated fats, like omega-3 and omega-6 fatty acids. These fats may benefit heart health by lowering cholesterol and decreasing inflammation.
Promotes Healthy Skin: Hemp seed oil contains antioxidants, which may help protect the skin from free radical damage. It also contains gamma-linolenic acid (GLA), an omega-6 fatty acid that may improve skin health and reduce inflammation.
Boosts Immune System: Hemp seed oil is high in vitamins A, C, and E, which can help strengthen the immune system and protect against infection and disease.
Supports Brain Function: Hemp seed oil contains omega-3 and omega-6 fatty acids, which can help improve brain function and lower the risk of cognitive decline.
Now that we've covered some of the health benefits of hemp seed oil, let's look at some delicious and simple hemp oil food recipes you can make at home:
Hemp Oil Recipes for a Healthier Lifestyle
Hemp Oil Salad Dressing
A simple way to incorporate hemp oil into your diet is to make your own salad dressing. Mix 1/4 cup hemp oil, 2 tablespoons apple cider vinegar, 1 tablespoon honey, and a pinch of salt and pepper to make a basic hemp oil salad dressing. For added flavor, add herbs like basil or thyme.
Hemp Oil Smoothie
Adding hemp oil to your smoothie is a simple way to increase its nutritional value. Mix 1 banana, 1 cup frozen berries, 1 tablespoon hemp oil, 1 tablespoon almond butter, and 1 cup almond milk. This smoothie is high in healthy fats, fiber, and antioxidants.
Hemp Oil Pesto
In a classic pesto recipe, hemp oil can be used in instead of olive oil. Mix 2 cups fresh basil, 1/2 cup hemp oil, 1/4 cup pine nuts, 2 garlic cloves, and a pinch of salt and pepper in a blender. This pesto can be served as a dip or as a sauce for pasta or roasted vegetables.
Hemp Oil Roasted Vegetables
Roasting vegetables with hemp oil is a tasty and nutritious way to add flavor to your meal. Toss your favorite vegetables with 2 tablespoons hemp oil, 1 teaspoon cumin, 1 teaspoon paprika, and a pinch of salt and pepper. Roast for 25-30 minutes at 400°F, or until tender and golden brown.
Hemp Oil Hummus
In a classic hummus recipe, hemp oil can be used in place of olive oil to give a nutty flavor and added benefits. Mix 1 can chickpeas, 1/4 cup hemp oil, 1/4 cup tahini, 2 garlic cloves, 2 teaspoons lemon juice, and a pinch of salt and pepper until smooth. With pita chips or fresh vegetables, serve.
Hemp Oil Energy Bites
Energy bites are an excellent snack for when you need a quick boost of energy. 1 cup oats, 1/2 cup almond butter, 1/4 cup hemp oil, 1/4 cup honey, 1/4 cup chopped nuts, and 1/4 cup chocolate chips should be combined. Roll the mixture into balls and chill for at least 30 minutes before serving.
Hemp Oil Stir Fry
Stir fry is a quick and easy dinner that can be customized according to your preferences for vegetables and protein. Heat 2 tablespoons hemp oil in a wok or big skillet over high heat. Stir in sliced vegetables such as bell peppers, onions, and broccoli for 3-4 minutes. Cook for a further 2-3 minutes after adding cooked chicken, shrimp, or tofu, as well as your favorite stir fry sauce.
Hemp Oil Muffins
Hemp oil can bring healthy fats and nutrients to your muffin recipe. Combine 1 1/2 cups flour, 1/2 cup rolled oats, 1/2 cup hemp oil, 1/2 cup honey, 2 eggs, 1 teaspoon baking powder, 1/2 teaspoon baking soda, and a pinch of salt in a large mixing bowl. Fold in your favorite mix-ins, such as blueberries or chopped nuts, and bake for 18-20 minutes in a muffin tray at 375°F.
Hemp Oil Oatmeal
Adding a tablespoon of hemp oil to your morning oatmeal can add a nutty flavor and extra nutrients. Cook 1 cup of rolled oats according to package instructions, and stir in 1 tablespoon of hemp oil, 1/4 cup of chopped nuts, 1/4 cup of fresh berries, and a drizzle of honey. Enjoy hot or cold.
Conclusion
Hemp oil could be an easy and enjoyable approach for improving your general health and well-being. Try out these recipes to show how simple it is to include this healthy oil into your everyday routine. Also, don't forget to browse The Trost's range of high-quality hemp seed oil products for all of your cooking needs.