Hemp Oil for Healthy Hair: Benefits, Usage, and Pro Tips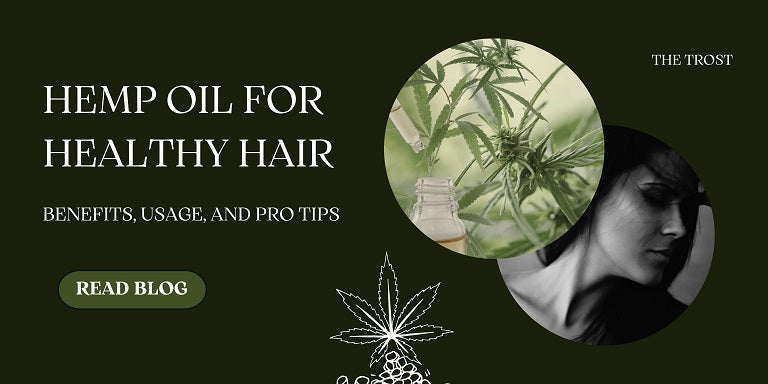 While most people may recognize hemp for relaxing and high, there's more to this plant variety. Hemp belongs to the Cannabis sativa species. People often call this plant marijuana, weeds, or ganja but this is really a unique variety of Cannabis sativa.
The industrial variety of cannabis plants called hemp is used for creating several kinds of health-beneficial supplements. Hemp hair oil can be used topically to rejuvenate hair growth and fight several scalp issues.
Whether you use hemp as a supplement or use its hair oil topically, it provides several benefits to the scalp and hair.
Here in this article, we will discuss the following:
What is Hemp Oil?

Nutritional Composition of Hemp Oil

Benefits of Hemp Oil for Hair

How to Incorporate Hemp Oil into Hair Care Routine
Without further ado, let's begin
What is Hemp Oil?
Hemp oil is developed from hemp seeds via the cold-pressed method. It is green in color and differs significantly from CBD oil or cannabidiol. For example, CBD oil is a product from hemp flowers and leaves. In contrast, Hemp oil for hair is developed using hemp seeds only. 
The Hemp oil for hair is free from the chemical tetrahydrocannabinol (THC). This is the substance responsible for producing the high with the use of cannabis plants.
Hemp seed oil is renowned for various health benefits, among them being that it protects our hair from damage. Before we divulge the detailed benefits of using hemp oil for hair, let's have a quick look at its natural composition.
Nutritional Composition of Hemp Seed Oil
The hemp seed oil has a 3:1 ratio of the popular omega-6 to omega-3 fatty acids. The presence of these fatty acids boosts hairline and hair growth in the following ways:
Improves hair thickness
Prevent hair loss
Increases hair elasticity
Improves dry scalp and hair circulation
The hemp oil for hair also has little amounts of three other polyunsaturated fatty acids mainly oleic acid, stearidonic acid, and gamma-linolenic acid.
Here's how these polyunsaturated fatty acids work in favor of your hair.
Oleic acid is a renowned powerful antioxidant. It has a vital role in encouraging healthy hair growth. Oleic acid works by fending off the impact of free radicals.
As per researchers, gamma-linoleic acid is responsible for promoting hair growth worked by improving the blood flow to the scalp.
From a nutrition point of view, A tablespoon of hemp seed oil contains the following:
14 grams of fat
5 grams of saturated fat
5 grams of polyunsaturated fat
Hemp seed oil also contains, antioxidants, such as vitamin E, carotene, phytosterols, phospholipids, and chlorophyll.
Hemp seed oil provides you with modest amounts of iron and zinc, and various other minerals like calcium, magnesium, sulfur, potassium, and phosphorus.
Benefits of Hemp Oil for Hair
There's a lack of scientific research on the proven benefits of using hemp oil for hair. However, like other hair oils, hemp seed oil has some significant benefits.
The following two are the major advantages of using Hemp oil for hair:
Moisturizing and Hydrating Effects
Hemp seed oil may have protective qualities when applied directly onto the hair and scalp. Like other oils, hemp oil might also prevent excessive water or other substances from invading the hair shaft. This is a strong benefit for damaged hair which is a result of over-styling or chemical damage. Oil helps the hair by lubricating the shaft and also reduces the combing force on soaked strands.
Provides Fatty Acids
Omega-3 and Omega-6 fatty acids are present in the hemp seed oil and in an ideal combination. These acids boost hair growth and help to fight several issues related to hair fall problems. 
How to Incorporate Hemp Oil into Your Hair Care Routine
To incorporate hemp oil into your hair care routine, follow these simple steps:
Start with clean, damp hair.
Take a few drops of hemp oil and rub it between your palms to warm it up.
Apply the oil evenly throughout your hair, focusing on the ends and dry areas.
Gently massage your scalp for a few minutes to stimulate blood circulation.
Leave the oil in your hair for at least 30 minutes or overnight for deep conditioning.
Rinse your hair thoroughly with a mild shampoo and conditioner.
Style your hair as desired.
Wrapping Up
That was all about the top benefits of using hemp oil for hair. It's essential that you buy hemp seed oil from certified resources, otherwise, you may end up getting zero results from counterfeit products.
At The Trost, we are licensed from Ministry of AYUSH to sell hemp-based products. You can easily place your hemp oil order from anywhere anytime.
FAQs
Q.1. Can hemp oil regrow hair?
Ans. A study in 2021 study suggests that hemp oil can boost hair growth for people suffering from androgenetic alopecia. This study involved participants using 3 to 4 mg of CBD once a day. The result was mesmerizing and witnessed a 93.5% growth in hair after a time of 6 months.
Q.2. What does CBD oil do to your hair?
Ans. CBD-infused hair oil may reduce scalp inflammation, act as a moisturizer for hair follicles, and enhance blood circulation, all of these together help to improve hair growth.