Hemp Oil for Dogs - Benefits, Dosage, and Where to Buy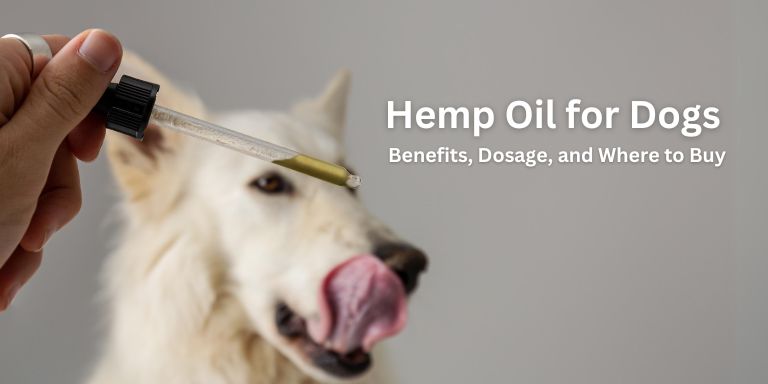 The consumption of hemp oil by dogs has been expanded in recent years after the dog owners came across the benefits of hemp oil. Hemp or the cannabis sativa plant is the main source for CBD, one of the most beneficial elements for dogs. It helps in reducing anxiety and pain which may be caused by thunderstorms, fireworks etc. Hemp oil has the ability to safeguard dogs from several infections and skin conditions dogs may go through.
Benefits of Hemp Oil for Dogs
The potential benefits driven from industrial hemp plants majorly exceeds other oils. Hemp oil has various components that may not be present in any other traditional oil. Following are some key benefits of hemp oil over other oils
Pain Buster - Hemp oil is known for its anti-inflammatory properties which has the ability to help dogs recover from several physical injuries and joint pain.
Anxiety Management - Similar to human beings, dogs also go through anxiety and stress which may be due to some natural activities like earthquakes, thunderstorms and separation. Hemp oil helps in relaxing and reducing mental pressure.

Skin Conditions - Dogs deal with skin issues like itching and dryness during aging which could be reduced by using hemp oil. Moreover, it helps in providing a shiny coat.

Digestive Health - Hemp oil improves the gastrointestinal issues and help dogs in achieving a healthy digestive system.
How Hemp Oil is Different from Other Oils
Industry is massively filled with options of oils for dogs, but differentiating and finding out the most suitable and beneficial oil for your dog's growth and wellness is a crucial step. Following are some benefits you can avail in hemp oil.
Nutrition - Hemp oil contains proteins, nutrition's and acids like omega 3 and omega 6 fatty acids that help in providing dogs a shiny coat and better health. While in other oils, the proportion of these acids is either too high or too low for dogs.
CBD Ratio - CBD plays a very crucial role in the overall growth of dogs by making them physically fit and mentally wise. CBD is known for its therapeutic values and does not contain any psychoactive elements. On the other hand, traditional oils like fish oil do not contain CBD.
Palatability - Different dogs have different levels of palatability when it comes to the taste of their food. Hemp oil has a nutty flavor which is loved by dogs but other oils may have a fishy or original coconut taste, which dogs are unfamiliar with and do not prefer.
Benefits - The general benefits of hemp oil differs a lot from the other oils. Hemp oil has the ability to recover dogs for injuries and help them relax in difficult situations like separation from someone they love.
Choosing the Right Hemp Oil
Among the various options available in the market, it is important to choose the right one for your dog. There are various factors that should be considered while choosing the right one. Following are some factors that you should focus on.
Extraction Method - There are many methods used for extracting hemp oil. One should focus on finding the right extraction method such as Co2, which is well known and gives out clean and hygienic products.
Third Party Testing - Many reputed manufacturers provide certificates of analysis (COAs) from different independent laboratories. These reports then validate CBD content and ensure it is free from contaminants, any harmful substances and residual solvents.
Ingredients - Always have a check on the ingredients of the product. Hemp oil made for dogs is manufactured with natural ingredients only such as CBD that helps in relieving joint pain and anxiety.
Dosage Guidelines
The dosage that needs to be given to dogs depends on many factors such as
Weight - The dosage depends highly on the overall weight of the dog because over or under dosage could not help in giving the desired results. A common guideline is to administer 0.1 to 0.5 mg of CBD per pound of body weight. For example- For a 30-pound dog, a starting dose might be 3 to 15 mg of CBD.
Response - Keep monitoring the response from your dog on a regular basis. If you notice any changes in the behavior of appetite, do not force the dog to keep consuming it.
Consult a doctor - do contact a doctor before you choose any product and its dosage for your dog. It is important to seek the advice of an experienced veterinarian. They can help you with personalized advice and make you understand what your dog actually needs.
How to Use Hemp Oil to Dogs
It may be difficult to make your dog consume hemp oil directly, especially with some picky eater dogs. Following are some ways that can help you with this problem.
Mixing with food - Choose foods with a strong smell which may dominate the smell of hemp oil and will make it easier for you to add it in the daily dosage of your dog.
Special treats - Treat your dog with their favorite flavors of foods infused with hemp oil or make one. This will excite them and at the same time help you with improving their diet too.
Reward - Use a snack made with hemp oil as a reward after some activity. Playing exhausts the dogs which will excite them for any reward and the focus would divert from taste to game.
Safety Considerations
Don't make your dog consume hemp oil just because you heard it at any random place. Every dog is from a different breed and their needs and tolerance level differs from one another. Following are some safety key points.
Quality - The market is full with many different types of hemp oil. It is important to find out the right hemp oil with the best quality available. Hemp oil is usually made with natural products which do not have any side effects.
Allergy - Dogs may be allergic to certain components in hemp oil. Focus on your dog's signs of an allergic reaction, such as itching, swelling. If any symptoms occur, discontinue use and consult with your veterinarian.
Side effects - Some dogs may feel certain side effects like drowsiness, behavioral changes or appetite changes. Monitor your dog closely and take actions for the same like- lower down the dosage or consulting a veterinarian
Where to Buy Hemp Oil for Dogs in India
Hemp is legal in India and hemp oil is made from hemp leaves, hence it is not a difficult task to find out hemp oil for dogs.
You can find it in Veterinary Clinics or Pet Stores, the local pet stores keep edible products for dogs with them. Moreover, in modern times, it is more easy to find hemp oil products due to online selling of products but do make sure to buy it from a reputed source.
CBD products are legally available and regulated in India, there are specific and independent CBD retailers both online and offline that offer a range of CBD products for pets.
Conclusion
Hemp oil has gained popularity in the past few years in India when people came across the potential benefits of hemp for dogs. It is advised to keep checking your dog's reaction after a week or using hemp oil on them. Do not force the products on your dog and consult a doctor or veterinarian if you see anything different in your dog's behavior.