Cannabis Seeds in India: Types, Legality, and Where to Find Them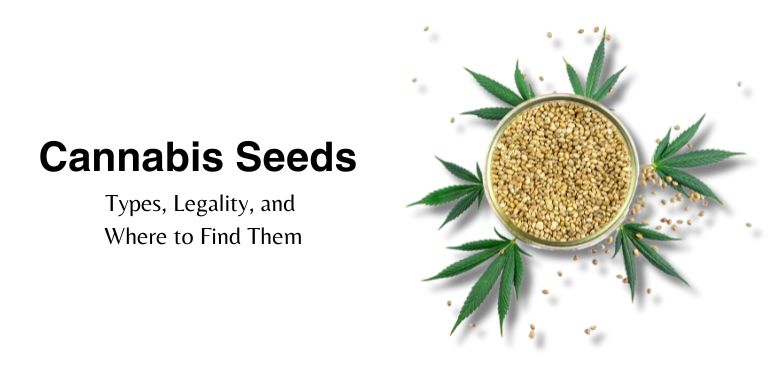 The consumption of unhealthy food has subsequently taken over the healthy diet. People, in the 21st century, are aware about the products that have the ability to completely destroy their physical health. This awareness has led to several corrective actions including adding new protein and nutrition sources to the diet. Cannabis has made a huge market in the past few years by acting as an alternative to many traditional products which were affecting the physical health of human beings. The usage of cannabis is arguably seen in many various industries through various different implications.
Types of Cannabis Seeds
There are several different types of cannabis seeds which could be easily found. The seeds vary from each other on the basis of genetics, growth, cultivation effect and certain other factors. Each type has its own uniqueness and potential benefits. Following are some cannabis seeds:
1) Feminized Seeds - As the name suggests these seeds are specifically bred in order to produce the female plant. In the production of cannabis plants, the involvement of female seeds plays an important role since they are rich.
Benefits - It helps in removing the unwanted male plants since they are not capable of producing the flowers and could also pollinate the female seeds and subsequently reduce the harvest quality as well.
2) Auto flowering seeds - when the right age comes, auto flowering seeds upholds the ability to automatically change from vegetative to flowering stage since they have ruderalis genetics.
Benefits - These seeds have a comparatively shorter life span which makes them a fit for someone who needs to do quick harvesting. Moreover, the auto flowering seeds do not depend on light conditions. They usually start flowering themselves irrespective of the light conditions.
3) Regular seeds - You can not control the genetics of a regular seed, they could be either male or female. There is a 50-50 possibility of both the genetics.
Benefits - Regular seeds introduce diversity in the traditional breeding program which helps in creating certain new strains. Usually, the experienced people with the motive of propagation of specific phenotypic traits prefer regular seeds over other varieties.
Popular Cannabis Strains in India
The climate of India varies from other countries, so the strains that need to thrive in India should be resilient to pests and very high temperatures as well as humid conditions. Following are some strains that are popular in India for their various features.
1) Indian Landrace Strains - This is usually found in the Malana region of India and is adapted to the local environment. The landrace strain is available in many different flavors such as Earthy, spicy and herbal. This strain is used for the effect of both relaxation as well as a sensation of euphoria.
2) Mango Haze - It is a sativa dominant hybrid which is super rich in THC of around 24% that is responsible for the psychoactive effects after consumption. They could be cultivated both indoors and outdoors and the preferable month is late october. The mango haze strain has a sweet and a tropical mango fruit taste which uplifts and energizes you.
3) Nepalese Highland - These strains are usually harvested outdoors in the Himalayan region or any mountains during the month or may or june. The nepalese highland is a sativa dominant strain which has the ability to calm and relax both your mind and body. They are found in earthy, citrus and floral flavors.
Legal Landscape
The consumption of cannabis has a debatable history in India. The legal status of cannabis is constantly evolving and growing with the development across the world. The usage of cannabis seeds or plants is permitted by the government considering the scientific and medical usage of cannabis still stays in control of Indian law. Under the NDPS Act, the production and selling of cannabis flower and resin is prohibited but not cannabis seeds. The law is majorly concerned with the prevention of any non-medical use of the drugs.
The cannabis seeds and stem are legal in India since they are used for various medical usage, consumption and manufacturing purposes.
The Ayush ministry of India issues licenses to organizations like Trost, which are trusted for the right use of cannabis.

Health Benefits of Cannabis Seeds and Availability
There are numerous health related benefits rolled up in cannabis plants. When combined with a healthy and balanced diet, cannabis seeds works wonders and improves the physical, mental and emotional well-being of a person.
Acts as a protein source: cannabis seeds refers to as a complete source of valid proteins that a human body needs for survival such as amino acid. People who only consume vegetarian or plant based diets rely a lot on this organic source of protein.

Nutrients enrichment: Nutrition's like fatty acid, proteins, vitamins and minerals like potassium and others are crucially important for our body which are highly present in the nutritions of cannabis seeds.

Heart health: Cannabis seeds are rich in omega acid which improves the health by reducing the inflammation.

Improves skin conditions: Fatty acids like omega 3 and omega 6 are rich in skin repair proteins which are highly present in cannabis seeds
Finding cannabis seeds is no huge task considering its legality and availability in India. The Government and Health ministry issues licenses to various trusted organizations who prove the right and useful usage of cannabis seeds.
One such reputed organization is Trost, which has a license issued by the health ministry for selling cannabis made products and actually make a good change in the society.
Future Outlook
With the change in people's perception, cannabis has now stepped into almost every industry for good. There are many factors that are responsible for determining cannabis consumption and usage. The current research on the medicinal properties of cannabinoids and other compounds found in cannabis will lead to the enhancement of upcoming pharm and therapeutic applications. Other than that Cannabis is also evolving the technology, global market reach, lifestyle products and many other growth factors.
The future outlook of cannabis revolves around the development of cannabis and its various components in different sectors with the support of the government and private sector.
Conclusion
Cannabis is a very rapidly evolving topic in India, which when read about thoroughly could help you understand the potential benefits this substance holds. Everything has its own benefits and disadvantages, which depends on the usage and addiction of the product. Cannabis holds a big way for development of the entire nation in several crucial industries with the right support.
For more such new age health related content, do follow our blog!